Fully-Equipped Recording Studio
Give your CDs a rich sound quality with services from our recording studio in Hillsboro, Oregon. Our facility at MIR MUSIC features professional equipment from some of top names in the industry.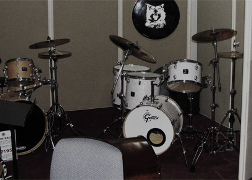 Complete Studio Services
Record something as quick and simple as a single track all the way to a completed CD in our studio. We offer a wide variety of the best instruments and tools along with an assortment of the top digital audio workstation packages available.
Studio Time
Studio time for all projects runs at $50.00 per hour. You can reserve your time by calling us at (877) 936-7822 or emailing us at MIRmusic1@Gmail.com. Book your time today. You won't be disappointed! Services include but are not limited to:
Our Equipment
Hardware:
Behringer™ Ultragain™ Pro-8 Digital/Analog Converter
Digidesign™ 002 rack FireWire Interface
Behringer XENYX™ Mixing Boards
2.46 Ghz Macintosh™ PC
Microphones
Shure™:
Shure SM 57
Shure SM 58
Shure SM 94
Shure KSM 27
Shure KSM 32
Shure Beta 57A
Shure Beta 58A
Shure PG 52
Shure PG 56
 Audiotechnica:
Behringer:
Instruments & Amps:
Casio WK™ – 7000 Series
LP™ Drums & Percussion
Casio™ Privia™ Keyboards
Allegra™ Mastercraft Series™ 4 Piece Kit with Sabian™ Cymbals
Kustom Groove Bass™ 1200 Amp & Cab
Kustom™ KG100HFX™ Guitar Amp with 4 x 10 & 2 X 12 Cabs
Guitars & Basses:
Peavey™
Boulder Creek™
Takamine™
Michael Kelly™
Ovation™
Spear™
DAW™ (Software):
Pro Tools™
Ableton™ Live 8™
Don't Be Shy. Get In Touch.